More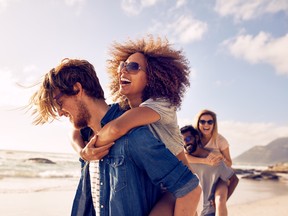 Article content
If you've never thought much about term life insurance, it's a good idea to know what it is and how it can benefit you as you grow older or your life changes.
Article content
"If you drive a car, the law says you need to buy insurance, so you generally tend to learn about car insurance when you start driving," says Chinyere Ezemenari, senior manager, direct life and health, TD Insurance. "But the whole idea of ​​buying term life insurance may be new to you at this point. There's really no such thing as a bad question — including whether you need life insurance at all at this stage of your life. It's all up to you. With TD Insurance you have access to online information and licensed life insurance agents to handle your questions."
What is term life insurance?
Life insurance is a financial product that can pay out a lump sum amount to your estate or a tax-free lump sum amount to your designated beneficiary if you pass away.
Article content
Do I have to be a Canadian resident to apply?
Eligibility requirements may vary depending on the insurance company. At TD Insurance, yes you do. That means you're legally entitled to reside in Canada for at least the next year and you've been a
…
Read the rest